Free Adjustable Rate Mortgage Calculator Spreadsheet
DESCRIPTION:
Take the advantage of adjustable rate loan may be a good solution for you when the time you buy a house, but you have to be very careful to calculate those numbers and make sure it is a right choise for you. This adjustable rate mortgage calculator spreadsheet creates an amortization table and graphs for an adjustable rate mortgage loan, with optional extra payments. Estimate the maximum interest rate and monthly payment for common fully amortized the adjustable rate mortgage.
BENEFITS:
Save time by using a pre-designed template as a basis for your analysis.
Reduce errors caused when practitioners try to design their own payment tables. Simply enter a few pieces of information about your loan and view the results. The calculations are already done for you.
Analyze loans with the year payment periods.
Users can enter additional (unscheduled) payments in any payment period.
See the breakdown of all payments between principal and interest and view how changes in loan terms and extra payments effect the breakdown.
Date and number fields may be re-formatted by the user (using Excel®'s built-in formatting capabilities) to accommodate for your conventions.
Perfect for anyone who needs a simple, easy-to-use spreadsheet for analyzing loans and payment obligations.
SYSTEM REQUIREMENTS:
Our software runs on any version of Microsoft® Excel® from 97-2016.
SCREENSHOTS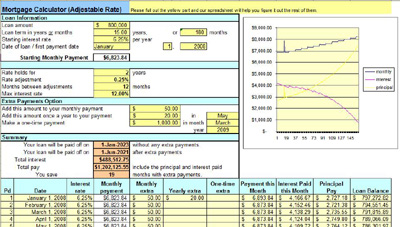 You may be also interested in:
Home Mortgage Calculator Spreadsheet
Adjustable Mortgage Calculator Spreadsheet Tool Download (ZIP file)